mHealth: Students are equipped with the methods and tools that are poised to revolutionize healthcare
mHealth: Students are equipped with the methods and tools that are poised to revolutionize healthcare Heading link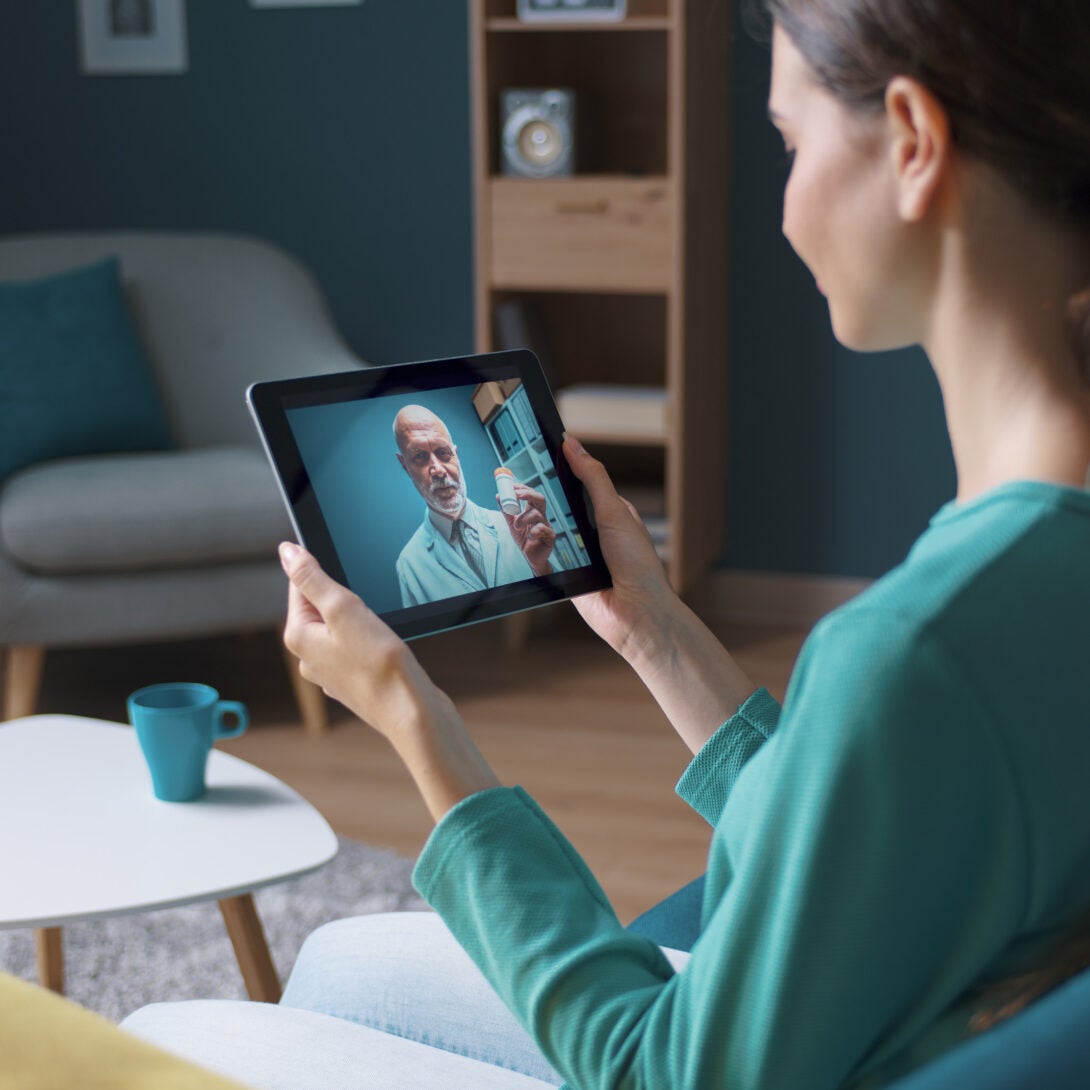 Mobile Health Informatics, often referred to as mHealth, is defined as the application of wireless  information and communication technologies such as smartphones, tablets, mobile apps and wearable activity trackers to support healthcare delivery, education, and research.
As the founder and director of the mHealth Innovation Lab at UIC, Dr. Spyros Kitsiou, UIC Associate Professor in the Department of Biomedical and Health Information Sciences , was tasked with developing a course where students would create innovative mHealth solutions and learn how to move from ideation and conceptualization to design, implementation, and evaluation. The online Master of Science in Health Informatics program's elective course, BHIS 522: Mobile Health Informatics, equips students with the knowledge and competencies needed to design and evaluate mHealth technologies and interventions that address important biomedical problems.
Learn more about the BHIS 522 course and how mHealth is poised to revolutionize healthcare.
What are the valuable skills students will learn in the BHIS 522: Mobile Health Informatics?
Students acquire a variety of competencies and skills centered around the design and evaluation of mHealth technologies and interventions that address biomedical problems of significance to patients, communities, providers, and federal agencies. Students will learn how to:
Develop mHealth app prototypes, using wireframes, user stories and other methods.
Communicate with end users and stakeholders to gather requirements.
Understand how technology works in the domain they're targeting.
Perform usability test studies.
Design studies to evaluate the feasibility and efficacy of their proposed health technology.
Are there any projects or real-world applications that students can look forward to in this course?
BHIS 522 is a project-based class. Students work in teams to identify a real biomedical problem, understand the impact of this problem on the health care system, and then propose an innovative solution to address this problem using mHealth technologies. Every course unit focuses on different methods and tools that can be utilized to develop a mHealth solution. Students work on their project ideas following a stepwise process which allows them to reflect on the problem and solution and receive feedback from the course instructor(s) and peers on their prototype, including its feasibility, novelty, and potential application in real-world settings. At the end of the course, students present their project to their instructors and classmates, answer questions, and gather feedback on their proposed solution.
How can students apply their skills to a future job role from this course?
Mobile technologies have already transformed the social fabric of our lives. They are now poised to profoundly influence healthcare and disease management. Mobile health technologies are increasingly becoming popular and are used in a variety of clinical and non-clinical areas in health care. During COVID-19, mobile health and telehealth transformed healthcare delivery in the United States. With sheltering place orders, most outpatient care centers ceased in-person visits, and telehealth solutions were used to support care delivery from a distance using various technologies such as mobile apps (e.g., Doximity, Zoom, Facetime) and wearable sensor devices.
After completing BHIS 522, students will be able to apply their knowledge, competencies, and skills to develop, refine, and/or maintain innovative products and services that address various healthcare needs and problems through mHealth, including prevention and management of chronic diseases, improved patient to provider communication, research, remote patient monitoring, and delivery of healthy lifestyle interventions. Careers in mobile health informatics include mHealth developers, analysts, project managers, researchers, data scientists, consultants, managers, etc. A wide variety of employers need qualified health informatics professionals with a master's degree, including hospitals, healthcare providers, research institutions, pharmaceutical companies, government agencies, software companies, and universities.
The competencies gained from the Mobile Health Informatics course along with other specialized courses offered in our MSHI program help students build a strong foundation and competencies that will give them a competitive advantage and position them for a successful career in Biomedical and Health Informatics.
The BHIS 522 course is part of the Consumer and Mobile Health Concentration. Why is it important for students to specialize in this topic? What do you think is the future of mHealth?
Healthcare delivery is growing rapidly, and care delivery is expanding outside of hospital settings. The ability to monitor and continuously gather human data about physiology, physical activity, sleep, and other behaviors that occur outside of the hospital (e.g., eating, stress levels) suggests new possibilities for both clinical practice and biomedical research. In a few years from now most, if not all, primary and secondary disease management treatments and interventions will include some form of mHealth or consumer health informatics technology. We are already witnessing an increasing use of patient portals through mobile apps (e.g., MyChart by EPIC) which allow patients to perform a variety of functions such as schedule appointments, communicate with their care providers via secure email, view their test results, request medication refills, view/pay medical bills and in some cases even sync their Fitbit or Apple Watch data to their medical record for their care provider to view. These advances are prompting new approaches to clinical care and research and are posing many challenges for existing healthcare delivery systems. The Consumer and Mobile Health Informatics Concentration provides students with the knowledge and skills to study and address many of these problems and challenges.
I foresee mobile health playing a very important role in bridging the gap between hospital care and community-based assessment of health parameters, enabling more effective patient-to-provider communication and delivery of patient-centered care.
Modified on November 08, 2023